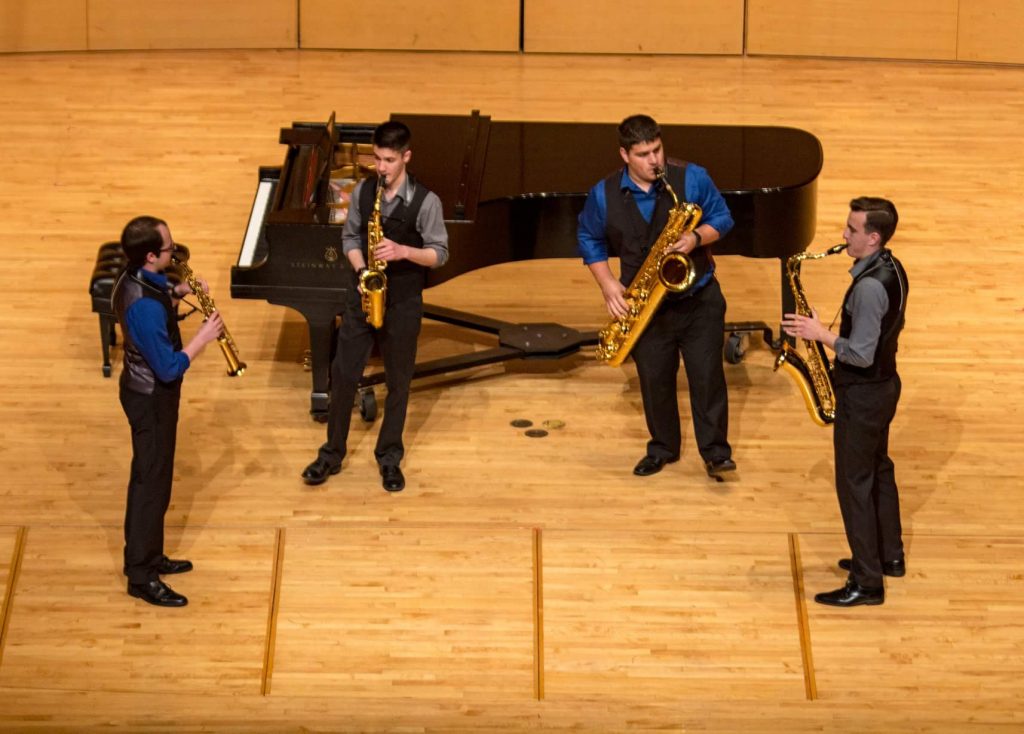 Formed in 2015 out of four incoming undergraduates at Central Michigan University, the Zenith Saxophone Quartet is a competition and collaboration focused chamber music ensemble. The quartet is actively involved in the development of chamber music performance dynamics through memorization and artistic staging. Zenith is highly active in the competition circuit, and has garnered numerous prizes in several of the largest chamber music competitions in the nation. In 2017 and 2018, Zenith participated in the quarterfinalist round of the Fischoff National Chamber Music Competition. In the 2018 Music Teacher's National Association Chamber Music Competition, Zenith placed first in the state and regional level competitions, and then traveled to the Coronado Springs Resort in Lake Buena Vista, Florida to compete at the national level, earning second place. Zenith has performed in masterclasses led by Christopher Creviston, the Chicago Saxophone Quartet, the H2 Quartet, David Maslanka, and Nobuya Sagawa.
---
Parker Fritz is a saxophonist and composer. Growing up in west Michigan, Parker discovered a deep interest in music performance, composition, and education. His early original music has been performed in the United States, South Korea, Europe, and Brazil, and he is fulfilling commissions for solo and chamber music from peers and professionals. He previously studied saxophone with John Nichol and composition with Evan Ware at Central Michigan University, where he was a Presser Scholar and member of the honors program. Currently, Parker is completing master's degrees in saxophone and composition at the University of Oklahoma.
Diego Kieliszewski has been passionate about playing music since from age five. Accomplished with both classical and jazz repertoire, Diego is skillful as both a soloist and ensemble member. Diego has been awarded Outstanding Soloist for Central Michigan University Jazz Weekend, a finalist for the Michigan Youth Arts Festival Soloist Competition, and received honorable mention for the Central Michigan University Young Artist Competition. A graduate of Central Michigan University, he now works as a Computer Software Analyst in the Lansing area.
Ben MacDonald, originally from Nashville, Tennessee, is a graduate of the CMU School of Music and the CMU Honors Program. Performing as a soloist, he was chosen as the winner of the Patricia Nixon Woodwind Competition and received an honorable mention in the 2018 CMU Concerto Competition. Currently, Ben performs in different ensembles, including the Codex Quartet. With teaching as a core value, Ben has many private music students and works with concert and marching bands from across the country. With hopes to further the saxophone repertoire, Ben has commissioned works from up and coming composers.
Taylor Huitema is a music educator located in Spring Hill, Tennessee. As a soloist, Taylor was nominated as a Michigan Youth Arts Festival Outstanding Soloist three times and is a winner of the CMU Young Artist Competition. With a particular love for the baritone saxophone, he has led consortiums and worked with composers to further repertoire written for the instrument.